New Single Out Now!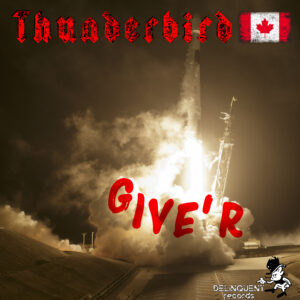 LISTEN NOW ON YOUR 
PREFERRED PLATFORM
'Give'r' is a Canadian expression whose exact definition depends on who you ask. In essence it means to go for it, go all out and give it all you've got, to go above and beyond.
It's also the title of the latest single from Canadian hard rockers Thunderbird, who this year celebrate their 20th anniversary. The Vancouver-based band has released three studio albums and several singles. Their music has received praise from critics around the world, who have described them as "exceptional" "undeniable" and "the forefront of the underground revival of hard rock".
Thunderbird's members are veterans of the Canadian music scene. Singer Marc LaFrance has sung and played on over 100 albums, including some of the biggest hits by Mötley Crüe, David Lee Roth, The Cult, Bachman & Turner and many more.
So, go ahead and 'just give'r' while listening to 'Give'r' 
Thunderbird
Marc LaFrance – vocals and vocal arrangement
Brayson Wong – guitars
Rob Becker – bass
Kelly Stodola – drums
Recorded at Delinquent Studio in North Vancouver, and Mainland Productions in Coquitlam, Canada
Mixed by Jaret Stodola
Mastered by Craig Waddell
Written by Roger Frankham and Marc LaFrance
Label – Delinquent Records (C) 2023